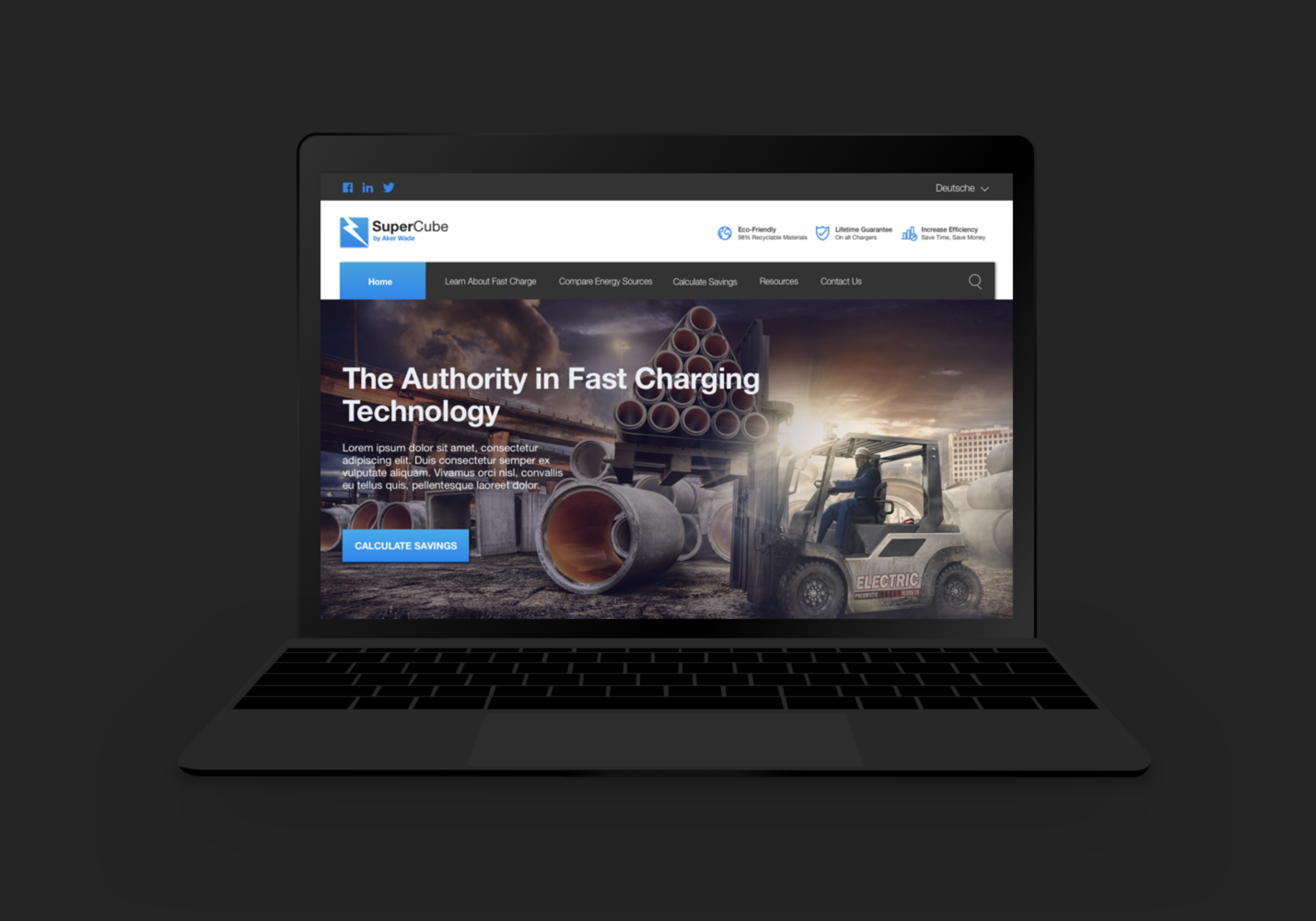 Overview
Project
Single page, responsive site design for C2E (AkerWade)
CLIENT:
ROLE:
UX Designer (Freelance)
Description:
AkerWade Power Technologies produces industrial fast-chargers for batteries that power industrial lift trucks and other vehicles primarily in the materials handling industry. The AkerWade Fast Charge Technology site was produced to promote AW as
the
authority in industrial fast-charge technology. The site launch was to coincide with an annual European conference for material handling where new products and technologies are presented. One of the key constraints in designing this site was turnaround time. We had just a few days to get the site designed, approved, and deployed in time for the conference. The subsequent sections walk through the general process for the site design and some of the key goals for which we solved.
1. Research
At the time this site was designed, the European market had shown some resistance to adopting fast-charge technology. This presented us with an excellent opportunity to design a site that bucked negative sentiment around AkerWade's product. Research was conducted on a cross section of analogous European businesses to ensure the site conventions were consistent with what European users might expect. As SeventhStreet had an existing relationship with AkerWade, we were able to leverage knowledge about AkerWade's customer base to inform our understanding of the potential users of this single page marketing site.
2. Planning & Early Ideation
To quickly produce a site requires planning ahead. Our design process started with the design of patterns and guidelines that would be used on the site. Once we had the typographic, color, and UI treatment outlined, we had the tools necessary to think quickly about translating requirements into an attractive, consistent UI.
3. Design & Execution
As we ideated on styling, we constructed requirements for the site. The site needed to be easy to browse (so we decided on a single page architecture). The site needed to be mobile friendly. And, the site needed to drive engagement between AkerWade and conference goers (like lift truck and battery powered vehicle manufacturers, fleet managers). 
Create a site that is mobile friendly

The AkerWade site was designed responsively across all major break points (desktop, tablet, and mobile). This benefitted our conference-going users, as most of them were "out of pocket" while attending the conference. This meant, they would be operating from their mobile devices rather than their laptops. 
Create a Site that drives engagement between Akerwade and conference goers
To facilitate an exchange of questions and answers between AkerWade and their potential customers, we designed a section at the bottom of the landing page, leveraging the twitter API, which allows users to tweet questions directly at AkerWade. Tweets from the conference would be displayed on the page, so other potential customers can see what conversations are already happening. The Twitter channel, itself, was designed to live long beyond the conference.